In order to support millions of patients or clients in their social integration and rehabilitation, the Medical Committee Netherlands-Vietnam (MCNV), for the last 3 years, has been working relentlessly to nurture manpower in Occupational Therapy, a new profession in Vietnam.
While Physical Therapy helps improve patients/clients' physical functions, Occupational Therapy (OT) helps improve their independence in daily routine and work, taking account of each individual's health condition and the characteristics of surrounding environment.
In the world, for hundreds of years, OT has been an essential part of rehabilitation, playing a significant role in helping patients/clients re-integrate into society and reduce disability.
However, in Vietnam, professional OT training had not been provided until the year of 2015. OT was only practiced in major hospitals and mostly by overseas students and volunteers. When patients were discharged, it was almost impossible to continue OT services at home, whilst to those who have just recovered from stroke, victims of accidents, or the handicapped, doing simple tasks like eating, bathing, moving around, etc, are big challenges.
Embark on a new journey
Aiming to meet with the urgent demand for OT in Vietnam, in 2015, a 5 – year project on Development of Occupational Therapy Education in Vietnam was initiated by MCNV. The project is funded by the United States Agency for International Development (USAID) through Humanity & Inclusion (HI) and Albert Waaijer Foundation (the Netherlands)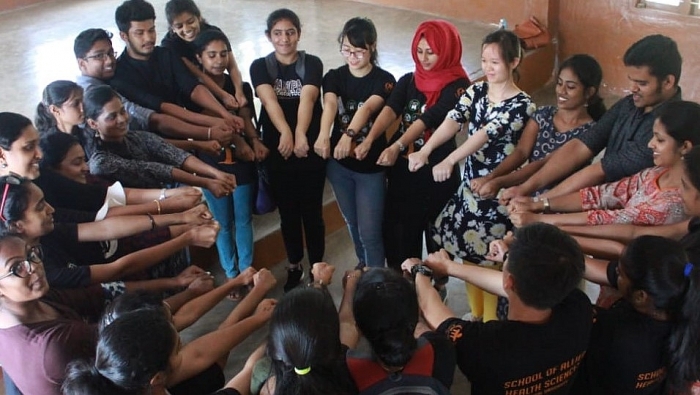 A practice session for OT students at Manipal Academy of Higher Education. Photo: courtesy of Nguyen Thi Tuyet Ngan
In 2016, together with two lecturers from HCMC Medical University, three lecturers of Hai Duong Technical Medical University (HTMU), Nguyen Khac Tuan, Nguyen Thi Tuyet Ngan and Vu Thi Loan were selected to participate in the project.
As OT is a new profession in Vietnam, the lecturers have to obtain their Bachelor Degree and later the Master Degree in OT overseas, before they can officially teach the subject in their universities. In August, part of the roadmap was completed, since the lecturers graduated from the Bachelor programme in Manipal Academy of Higher Education (India).
Before moving on to the Master programme, the three lecturers are spending time on their internship at HTMU, under the instruction of an OT specialist from the Netherlands.
Ms. Anna Kuijs, OT expert from the Netherlands instructs lecturers of HTMU in a practice session. Photo: Courtesy of MCNV
Recently, the valuable knowledge and skills they had gained from the Bachelor programme in India was shared with hundreds of students and lecturers on occasion of the World OT Day (Oct 27th) celebration in HTMU.
With vivid examples from first-hand experiences in OT, the three lecturers introduced to students and colleagues various aspects of OT, including the basic concepts to more in-depth topics such as OT application in rehabilitation, mental disorders, pediatrics, group treatment, etc.
Via various real-life case studies, the presentation, step by step, took the beginners through an exciting tour to explore the world of OT, bringing the profession closer to the students and lecturers, highlighting the practice of OT through simple daily activities, including identifying risks in clients' home to ensure safety, or re-designing a soup spoon into bigger size to facilitate patient's self-feeding, etc.
Extraordinary supports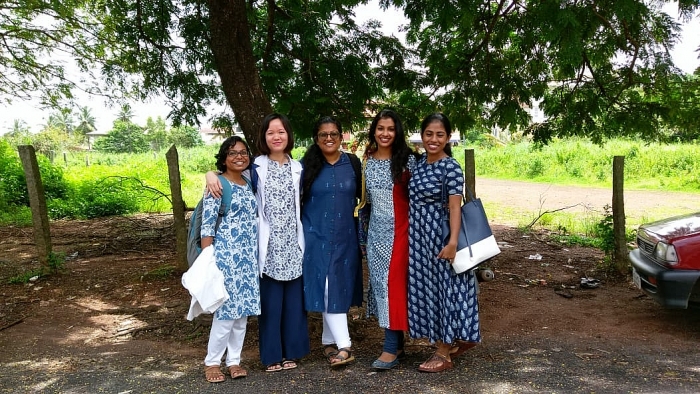 Nguyen Thi Tuyet Ngan (second, left) and lecturers, classmates in India. Photo: Courtesy of Nguyen Thi Tuyet Ngan
To be able to completing their Bachelor programme in India, the three had to overcome numerous obstacles. The challenge was not only keeping up with the curriculum, but also adapting to the new living and learning environment, filled with various barriers in language and cultural difference.
The challenge was overcome thank to their own effort and the supports of lecturers and friends in India.
"In order to help us understand better, the lecturers often spoke slower in class. Whenever we have any question, they always patiently explained for us. As they were aware of our nervousness, our teachers would include funny stories into their lessons to create a friendly and cheerful atmosphere. When it came to written assignment, our friends and teachers spent time helping us going through our works, to make sure we have adequate understanding of the subject as well as improving English skills," said Nguyen Thi Tuyet Ngan.
"In the first few days of our arrival in India, our lecturers even spent a whole day accompanying us to look for proper accommodation", Nguyen Khac Tuan said.
In addition to the supports from lecturers and classmates, during three years in India, Tuan, Ngan and Loan had received unwavering supports from MCNV.
"The people from MCNV including Country Director Mr. Pham Dzung, OT Programme Coordinator Ms. Trang Tran kept standing by our side throughout the journey in India. To us, they are our dear brothers and sisters, who gave us the strength to overcome all of the obstacles we faced in the last three years. They not only helped us from the very first step of the overseas study journey, but also kept watching us from the distance. They listened to us, provided advices, messaged whenever we needed to encourage us" Ngan said.
"During the early time in India, my English skills were still limited. This shortcoming affected my social life and study. Thanks to MCNV's attention, I had the chance to take an extra English course to consolidate my skills", Vu Thi Loan said.
After three years studying in India, nowadays, Loan has become a fluent communicator in English. In the World OT Day celebration held in HTMU on October 24, on the stage, in front of mass audience, she successfully fulfilled the role of an interpreter to support OT expert Anne Kuijs connect with the lecturers and students.

The road ahead
Three years in India not only builds a solid foundation in OT for the three lecturers but also instills the passion for this new profession in them.
"OT training is highly useful and beneficial to learners. Before taking the course in Manipal Academy of Higher Education, I didn't really understand what OT meant, even couldn't distinguish between physical therapy and OT. Nowadays, I am confident that I have gained adequate knowledge about the foundation of OT. I am particularly keen on the incorporation of Speech Therapy and PT and the patient-centric approach. Via in-depth inter-sectoral collaboration, we will help maximize the effectiveness of treatment, which is our key goal", Nguyen Thi Tuyet Ngan said.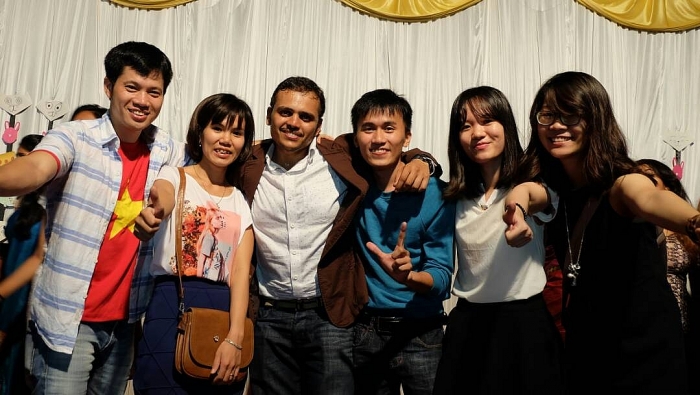 (From the left) Nguyen Khac Tuan, Vu Thi Loan and friends in India. Photo: Courtesy of Nguyen Thi Tuyet Ngan
According to Nguyen Khac Tuan, OT in Vietnam has a bright prospect. "Despite I just provided a few lectures on OT, I can feel the interest the students have for this subject.
Tuan said, what he loves about OT was its simplicity. "It can be conducted without modern, costly equipment or sophisticated techniques."
"With the client-centered approach, OT pays attention to clients needs, and based on that, guiding them to participate in activities which are meaningful to them in daily life, helping improve health and maximize the level of independence", the lecturer emphasized.
At the moment, Tuan is helping to build an OT lab in the Rehabilitation faculty of the Hospital of HTMU. Talking about his goal for the future, Tuan said:
According to the World report on disability 2011 by World Health Organization, over 60% of disabled people in developing countries are in need of rehabilitation services. In Vietnam, the number is estimated at 4 million.
Each year, two major hospitals of Vietnam, Bach Mai and Cho Ray received around 2,000 case of spinal cord injury, which is critically in need for OT.
In addition to manpower building, MCNV is also an active organization in developing OT network, awareness raising, and policy making.
"After completing my Master degree, I hope I will be able to help HTMU build a holistic OT training programme, and enhance cooperation with hospitals, universities across the country, to create a sustainable and widespread network of OT in Vietnam".
By Phi Yen
Vietnam Times
In order to support millions of patients or clients in their social integration and rehabilitation, the Medical Committee Netherlands-Vietnam (MCNV), for the last 3 years, has been working relentlessly to nurture manpower in Occupational Therapy, a new profession in Vietnam.